LOCALLY OWNED IN MOORHEAD, MN
ABOUT FARMSTEAD
Welcome to the Farmstead family. Whatever your needs— senior living, assisted living, advanced care, or memory care— we're here to make you feel safe and at home. Our roots run deep in the Fargo-Moorhead community. Roger Erickson, a Moorhead native, built and designed Farmstead Living on 12 acres of farmland with his parents in mind.
A PLACE FOR LIVING
Living isn't just part of our name, it's an integral part of who we are at Farmstead. We keep our residents active and engaged at a level that fits their needs. Our residents stay plugged into the community through various in-house social opportunities and off-campus activities.
Enhanced Senior Living at The Villa is a bridge between independent living and assisted living. It is designed for those who can benefit from personalized support and care while enjoying the residential setting and autonomy of independent living. The Villa's 24-hour awake staff provides peace of mind. Age-in-place at The Villa and allow Farmstead to help when you need it.
Assisted Living, Advanced Care, and Memory Care at our Farmstead Care location is a 24-hour staffed community. Our nurses and trained staff deliver exceptional care and assistance to all residents in our community, providing adults with personalized care, a healthy lifestyle, and social engagement in a residential setting.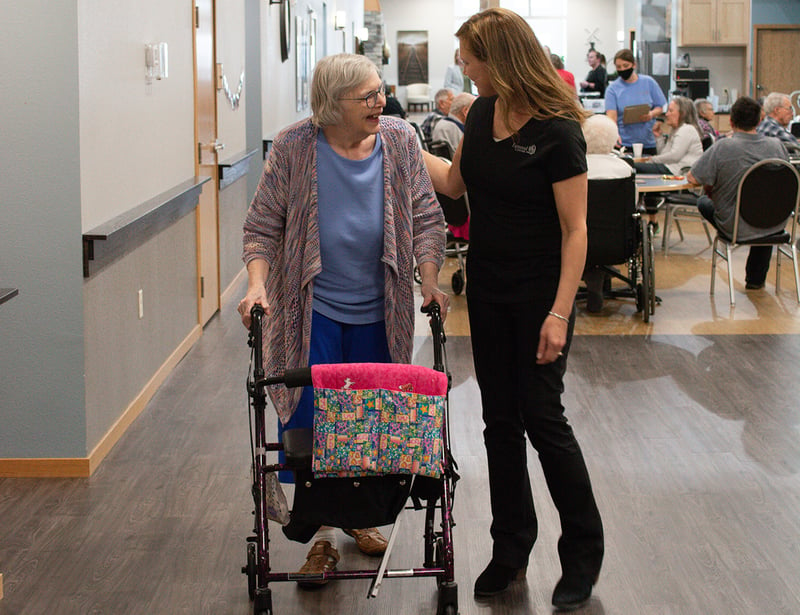 Locally owned
Local ownership ensures that important decisions can be made internally and in a timely fashion.

Specialized care
Our exceptional caregiver to resident ratio allows us to care for people of all ages who have advanced needs.

Dedicated to safety
We're dedicated to a clean and healthy environment and provide a space where you can feel safe and secure, no matter what level of care you need.

A space for everyone
Light and airy, our modern open-concept design allows plenty of opportunities to engage with your neighbors.
One of my favorite things about Farmstead is the wide-open and bright living and community space. – Olive A., resident